ARPG8R is a MIDI arpeggiator. ARPG8R can work with any VST instrument you like.
ARPG8R は MIDI 出力可能な VSTi アルペジェータです。お気に入りの VSTi プラグインにアルペジオ機能を追加できます。

ARPG8R has 32 step pads. You can create your own arpeggio pattern.
32個の pad で各ステップを ON/OFF できます。これにより休符を含んだオリジナルパターンを作成できます。

ARPG8R has 5 arppegio modes (Up, down, updown, rand, and manual). also Ployphinic Chord mode.
5つのアルペジオモード(UP,DOWN)に加え、コードをパターン演奏できるPOLYモード搭載。

Shuffle and gate function control the groove dynamically. they are important effect in electronic music.
エレクトロニックな音楽に欠かせない Shuffle や ゲートコントロール搭載。

0.9.5(2010.09.08): Added Accent function

0.9.5 x64(2012.07.07): Supports x64

0.9.5.1 x64(2014.02.21): 32bit + 64bit
Using on macOS Catalina or later
0.9.5.1 (2014.10.23): Testing MIDI FX.
0.9.5.1 (2014.11.02): Updated MIDI FX.
Setup for Logic pro X MIDI FX

0.9.5.1 (2013.01.30): improve MIDI timing.
Setup for Logic AU

Demo limitation : after 20 minutes of usage, any note is changed to C3.
Requirements : Windows XP+, VST host

previous version 0.9.4 beta
release:2010.08.29
previous version 0.9.3 beta
release:2010.03.22
previous version 0.9.2 beta
release:2010.03.20
previous version 0.9.0 beta
release:2010.03.18



Setup
Load ARPG8R as a VSTi instrument, load your favorite synth and connect it to ARPG8R. Setup tutorial for Cubase, Fl, Sonar, ACID, StudioOne, Reaper, BitwigStudio, Logic(AU), Logic(MIDI FX) and Live.
Input chord
Select the ARPG8R track and play the keyboard or input chord notes.
Manual mode
In Manual arp mode, the notes will be played in the order in which the keys are pressed.see more modes...
Gate length and Tie
You can set the length(%) for each notes. If it set to 101%, the note is played until next note-on.
Trigger
If trun off KEYBORDS button, Arpeggio pattern is reset by step length.
to more complex arpeggio
Add delay effect to your 1/8 or 1/8dot arpeggio pattern. It makes more complex sequence.
Accent (ver 0.9.5+)
1.Right-Click(Mac:Shift+Click) a Step Pad to set a Accent Setp. 2.Set the Accent Knob to Adjust their velocity(-100% to 100%).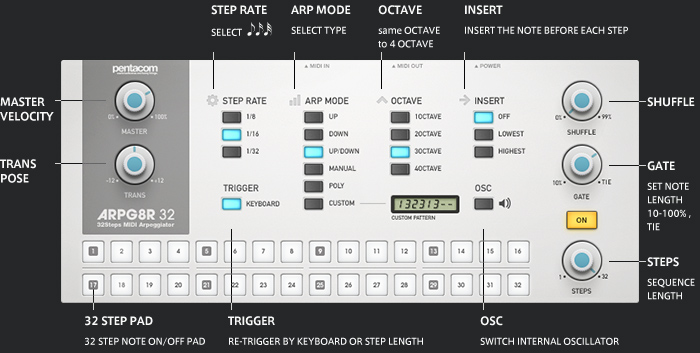 for Windows Paypal
Price ¥1,100 JPY (≈ $ 12 USD)

for Mac OS X Paypal
Price ¥1,100 JPY (≈ $ 12 USD)

pentacom is not liable for any damage resulting from the use of these softwares.
copyright © 2010 - pentacom.jp some rights reserved. /
pentacom.jp
/
Contact Us
VST is a trademark of Steinberg Media Technologies GmbH.